Da Nang - Summer Tourism: Visitors spend more but less
Domestic tourists to Da Nang in the summer is the busiest, but due to the difficult economic situation, the majority of visitors to tighten spending by hiring each individual service groups, or just use the standard service 2 -3 stars to save money.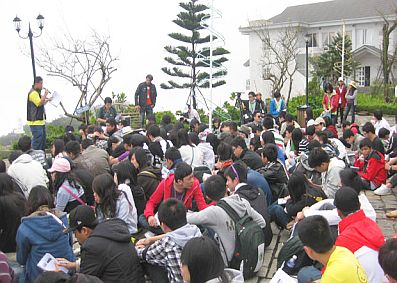 Visitors revenue but not much higher
Dust bag with phone calls, appointments partner, Le Tan Thanh Tung, Chief Executive of Tourism JSC Vietnam-Vitours shook his head: "This year the tour always more busy, negotiating with customers more, but the effect is not high turnover ". It is almost the overall situation of most mining companies tourists in Danang. The main reason is the company explained by the impact of economic difficulties, tourists calculate more precise and generally do not buy the whole package from A to Z as always, that retail services group which is quite difficult to obtain in high season as airfare, room stay. "Only to Danang then, they really need to keep calling us to buy meals or take trips," Mr Tung said. That way, the tourists before quite generous in spending visitors from Hanoi and HCMC. Ho Chi Minh City, this can control the services and expenditures.
Bao Duy Linh, Deputy Branch Manager Corporate Travel VIETRAVEL commented: "Guests tend to use services from an average of 2-3 stars, with the price and quality just right. If the service uses the standard 4-5 star luxury, you'll cut down the time on tour to save money. " The year before, the hotel (KS) 4-5 stars coastal city center hotel often overwhelmed and ready to resort to aggressive high-quality service, but now, the business establishment services 2-3 "should eat" more. According Components, partly because a lot of business solutions can lead to the number of tourists in groups and companies reduce the situation to the Government policy to curb inflation, consumers consider very carefully when using the service, select the Moderate legal services, without luxury. Many large tour operators from the beginning of the year was expected to segment 2 stars to suit many customers.
Tourists "smart" more
Grasp the situation of people tighten spending, many small travel companies compete fiercely by very low prices, causing major travel agents also have to keep interest rates down guests. "We can reduce 2-3% interest to keep the guests, the tour price should not increase much more than last year," said Linh share.
Guests also "intelligent" than when not focused to Danang in late May and early June as the year, which spread over the month to avoid tension and services not subject to high rates. In addition, the amount of central and coastal KS also appear more accommodating than before from 1000-1500 person / night so this year, the service and the price can not be challenged guests. The price does not increase the coastal KS-style two winter, summer, or even declined compared with the year.
However, in many travel agencies, high airfares are the main cause of visitors did not increase much and do not use many services. The highest ticket price from TP. Ho Chi Minh City and Hanoi are now 3.5 to 4.1 million / ticket; lucky, pilgrim can buy cheap tickets to Beauty in about 2.2 hours to 2.5 million / ticket. "We must take time to sit on more systems," soup "place longer and more sex to get cheap tickets to customers," said a tour operator.
"Guests are looking forward to an impairment of the company in August to have increased significantly," said Dinh Van Loc, Director of Tourism Vietnam Da predicted.