Da Nang: Exploiting new tour in Son Tra
Son Tra Peninsula scenic, attracting domestic and foreign tourists. Recently, the Management Board of Son Tra peninsula and Danang beach launch two new routes are watching langur (in the forest) and fishing, snorkeling (underwater) to serve tourists.
Join two route, visitors will experience the tourism forms go through the forest, explore tropical flora and fauna rich or eyes watch the langurs, rare animal species under the Red Book are protected here.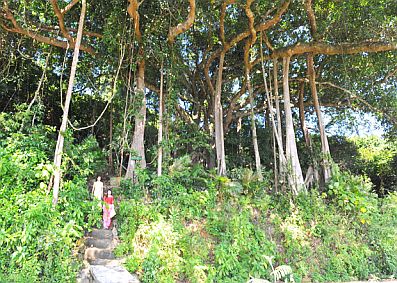 In hot weather, immersed in the natural forest, sea green is the ideal destination for summer travel yours. In particular, the journey through the forest in Son Tra Peninsula, guides take visitors along the southeastern slopes to watch Black Rock beach, beach Rang, Bai But ... At the appropriate place, members of the Group will be participating in the group guided fishing and diving reefs rare variety of colors and types.
With the advantages of natural forest-sea-mountain, the People's Committee of Da Nang City has agreed to allow the Management Board of Son Tra peninsula and beach tourism pilot Danang build two floating pavilions service fishing for relaxation at Nom Beach area. The building will be taken from the funds of the society, called the hands of the community. In addition, the Management Board will carry out the construction of temporary jetty at Black Rock beach to cater for cruise ships moor. Next time, when the two works completed, promises to Son Tra highlights interesting tourist, tourist attraction.
Along with the launch of a new tour and travel agencies are exploiting tourism in Son Tra Peninsula continues to invite visitors to register and participate in the tour as familiar Around the Peninsula; Snorkeling and scuba diving; Wild Son Tra, Fishing and fishermen ... The tour is mostly encapsulated in the day at the price of 500,000 VND / person.